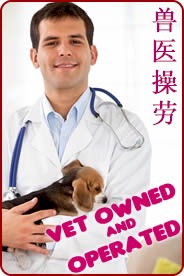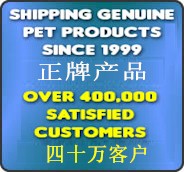 正牌原装 全球批发 当日发货
[Add to Favorites 添加到收藏夹]
Buyer's Guide: You may search literally with any keywords. Or you can simply browse the entire catalog listed below or the menu on the left. We sell Genuine Pet Meds @ Discount Price!
采购指南:您可搜索任何关键字或可简单地浏览左边和下边整个目录菜单。

Express Pet Supplies for Cats and Dogs 宠物猫狗医药用品快递
Need pet supplies direct for your dog and cat? Buy discount vet products online and save!
Buy pet supplies online and save over 40% on all name-brand vet products. Compare our prices with your local vet or pet shop on leading pet supplies such as Advocate, Revolution, Frontline Plus and Heartgard Plus.
Select from a wide range of quality vet supplies, pet products including flea treatments, heart worm prevention, tick control, ear treatments and more.
With a flat $2.99 postage for every order and super fast delivery world-wide, your pet supplies and products are delivered conveniently straight to your door.
需要直接您的狗和猫购买宠物用品?在线购买批发价产品可为您节省大量的钱!
网上购买宠物用品,并节省超过40%的所有名牌兽医产品。比较我们的价格与当地的兽医或宠物用品店,如 Revolution,Frontline lus 和 Heartgard Plus。
所有高质量质量的原装兽医用品,宠物用品,包括跳蚤治疗,预防心脏蠕虫,蜱控制,耳部护理等广泛的选择。
每个订单$ 2.99平费邮资至世界各地的超快速交货,为您的宠物用品和产品提供方便直接上门服务。
Advantage
Advantage is a once a month topical flea treatment for cats and kittens over 8 weeks or older and dogs and puppies 7 weeks or older. This product kills 98-100% of the fleas on cats and dogs within 12 hours. Comes in the following sizes - Small Dog Green- for puppies over 6 weeks and small dogs up to 10lbs; Medium Dog Teal for dogs 11-20lbs; Large Dog Red for dogs 21- 55lbs and Extra Large Dog Blue for dogs over 55lbs; Small Cat Orange for cats and kittens up to 9lbs; Large Cat Purple for cats over 9lbs.

Advantage 是为猫或8个星期以上小猫和年龄较大的狗或7个星期小狗,每月一次专题跳蚤治疗。本产品对猫,狗在12小时内的跳蚤杀死率为98-100%。有以下类型包装尺寸 - 小型狗绿色:为超过6周的幼犬和小型犬到10磅使用; 犬中型犬蒂尔色:11到20磅; 大狗红色:21 - 55磅; 额外的大狗蓝色: 狗超过55磅. 小猫橙色: 小猫9磅以内; 大猫紫色: 9磅以上猫.
Advocate also known as 又名 Advantage Multi
Advocate or Advantage Multi Is a monthly spot-on type medication for the prevention of heartworm, and the treatment of fleas, hookworm, roundworm, whipworm, and mite infestation for dogs and cats.

是每月狗猫类既时型药物, 用于治疗心丝虫预防,治疗跳蚤,钩虫,蛔虫,鞭虫,螨虫患等。
Drontal Plus Cat 猫用
Drontal or Drontal Plus is a broad-spectrum anthelmintic for the treatment of domestic dogs and cats.Drontal Plus covers roundworms and all main tapeworms. Given as a single dose, there is no need to give this product on an empty stomach. Use one dose every 3 months to stop worms dead. The drontal tablet that is specifically formulated for cats. Can be used from 6 weeks of age.

广谱驱虫药用于治疗家犬和猫.Drontal Plus 可治疗包括蛔虫等所有主要绦虫。每3个月用一剂量,没有必要空腹。蠕虫死后停止。 Drontal片剂是专门为猫制定。可用于6周龄以上的猫。
Frontline Plus
Frontline Plus is the number one choice for flea and tick protection against the annoyance of these external parasites. It's easy to use, offers quick and effective protection against fleas and ticks, and it delivers continuous protection for your dog and cat.

Frontline Plus 是针对烦恼的跳蚤和蜱这些外寄生虫的头号选择。很容易使用,提供快速和有效的针对跳蚤和扁虱的保护,对你的狗和猫提供持续性保护。
Frontline Flea & Tick Control (Spot On) Frontline 跳蚤和壁虱控制(点上)
Frontline Spot On offers long-lasting, fast acting flea and tick control. Frontline contains fipronil, a flea adulticide. Fipronil works by affecting the parasite's (the flea's or tick's) nervous system causing paralysis and death of the parasite. Fipronil spreads over the pet's body with the body oils killing 98-100% of the fleas or ticks within 24-48 hours, and controlling transmission of tick-borne disease, such as Lyme disease.

长效,跳蚤和壁虱控制快速见效。Frontline 含有氟虫腈,跳蚤成虫杀剂。氟虫腈影响寄生虫(跳蚤的或打勾的)神经系统导致寄生虫瘫痪致死亡。随宠物身体的体油扩散至全身,在24-48小时内杀死跳蚤或虱子率为98-100%,并控制传输蜱传播的疾病,如莱姆病。
Heartgard Plus
Heartgard Plus Chewables is a monthly meaty chew used for the prevention of heartworm disease and for the control of roundworms and hookworms in dogs.

Heartgard Plus Chewables 为每月肉香咀嚼类药物, 用于丝虫疾病的预防和用于控制犬蛔虫和钩虫。
K9 Advantix
K9 Advantix is a topical parasiticide used in the treatment and prevention of fleas; ticks including deer ticks (the major carrier of Lyme disease), American dog ticks, Brown dog ticks and lone star ticks; the control of lice and the killing and repelling of mosquitoes in dogs and puppies. One application lasts a month.

K9 Advantix 是一种外用寄生虫杀剂用于治疗和预防跳蚤,蜱,包括鹿蜱(莱姆病的主要载体),美国狗黄狗蜱和孤星蜱,蜱,虱。控制,并杀死击退在狗和小狗身上的蚊子。一服效用可持续一个月。
ProMeris for Dogs & Cats 猫和狗
ProMeris is a topical, waterproof spot-on medication for the control of existing flea and tick infestations, as well as the prevention of re-infestation, in dogs and cats 8 weeks and older. ProMeris is the perfect flea and tick solution for your dog or cat.

ProMeris 是跳蚤和壁虱虫害控制热门药,它能防水治疗8周以上狗和猫已发现的跳蚤和壁虱,以及预防再度为患的。 ProMeris是您完美的狗或猫的跳蚤和蜱的解决方案。
Revolution also known as 又名 (Stronghold)
Revolution (selamectin) is a topical parasiticide for the treatment of fleas, American Dog tick, ear mites and heartworms in dogs and cats, and intestinal worms in cats.
Revolution (selamectin)是一种外用寄生虫治疗药物。寄生虫对象包括跳蚤,美国狗壁虱,耳螨,狗和猫的心丝虫,猫的肠道蠕虫等。
Interceptor Spectrum Chews
The combination of ingredients in Interceptor Spectrum Chews prevents heartworm infection; controls adult roundworm, immature roundworm, adult whipworm, adult hookworm, adult tapeworm, and aids in the control of adult hookworm infection.

Interceptor Spectrum Chews 咀嚼片的结合成分能防止心丝虫感染,控制成熟蛔虫,不成熟蛔虫,成熟鞭虫,成熟钩虫,成熟绦虫,成熟钩虫的感染。
Sentinel Spectrum Chews
Sentinel Specturm Chews are used to prevent heartworm disease, control flea populations and control intestinal worms in dogs. Regular treatment with Sentinel provides long term protection and control of flea infestations, and aids in the treatment of flea allergy dermatitis in dogs.

Sentinel Spectrum Chews 咀嚼片用于预防心丝虫疾病,控制跳蚤数目和狗的肠道蠕虫。常规使用提供长期的保护和有效控制跳蚤侵扰,并能帮助敏性皮炎的治疗。
Capstar
Capstar protects your dog from fleas, which apart from being irritating to dogs, can also carry tapeworm and other illnesses, as well as infesting your home. Capstar for dogs, an orally-administered tablet, provides fast and efficient treatment for fleas, killing the pests within 30 minutes. A single dose of Capstar kills adult fleas on your dog and provides protection. Treating your dogs from fleas and parasites has never been so easy!

Capstar 保护您的狗,免除跳蚤骚扰。跳蚤除了刺激狗,也可传播绦虫和其他疾病,以及严重影响您的家。犬用Capstar,口服药片剂提供快速高效跳蚤治疗,可在30分钟内杀死害虫。单剂量的Capstar 杀死成虫,并提供保护。治疗跳蚤和寄生虫,从未如此容易!
Otomax
Otomax is an ointment used to treat ear infections. It is a combination steroid, antibacterial, and antifungal ear medication labeled for use in dogs.

Otomax 是用来治疗爱犬耳部感染的药膏。它包含类固醇,抗菌和抗真菌药物。
Epi-Otic
Epi-Otic is the most widely used pet ear cleanser worldwide. It is a mild, alcohol-free cleansing and drying solution. It is labeled for use on dogs, cats, puppies and kittens of any age. Epi-Otic is useful for routine ear cleaning or prior to treatments. It removes debris and dead tissues.

Epi-Otic是全世界使用最广泛的宠物耳朵清洁剂。这是一个温和的,无酒精的清洁和干燥的解决方案。标签上说明可用于任何年龄的狗,猫,小狗和小猫。 Epi-Otic是治疗前常用洗耳剂。它消除碎片和死组织。